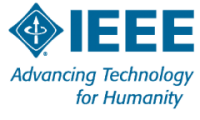 The 10th MECO (2021) Conference has been enlisted in the IEEE Calendar!
The Institute of Electrical and Electronics Engineers (IEEE) is a professional association with its office in the New York City. It was founded in 1963 by the merging of American Institute of Electrical Engineers and the Institute for Radio Engineers.
IEEE is the world's most prestigious publisher in the field of the Electrical and Electronical Engineering and related fields. It produces over 30% of the world's literature in the electrical and electronics engineering and computer science fields and publishes more than 1,200 leading-edge conference proceedings every year.
MECO Conference Proceedings are traditionally published by the IEEE which goes to prove the top-notch quality of our conference!
Submit your paper and be published in IEEE!