Indexing:
MECO and CPSIoT belong to the internationally most esteemed and most reputable events (conferences) in the fields of:
Computer Science,
Embedded Systems,
Cyber Physical Systems,
Internet of Things,
Artificial Intelligence,
Computer Graphics and Computer-Aided Design
Computer Vision and Pattern Recognition
Human-Computer Interaction, and
Related Fields
They last for decade and are highly cited and indexed in almost all relevant databases in the area of ​​interest, inter alia:
IEEE Xplore (more…)
SCOPUS
Web of Science (WoS)
Microsoft Academic
Google Scholar
Research Gate
and other relevant database
Growth:
MECO is a growing conference in both quantity and quality. We started with 73 papers and in recent years that figure has been around 200 papers.
Famous guests:
We are very proud of the fact we have hosted 3 Nobel Laureates in the last decade.
Prof. Dan Shechtman, keynote at MECO 2016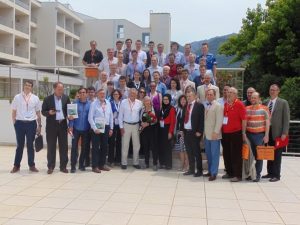 Prof. Tim Hunt, Nobel, Keynote at MECO 2018
Prof. Jerome Isaac Friedman, keynote at MECO'2019
More about our famous guests, their interviews for MECO, about our keynote speaakers as well as about other interesting stories that show the spirit of our conferences you can find at MECOnet Press-Media Corner
Feedbacks:
Transparency is one of our pillars. MECO and CPSIoT committees and organizers are very devoted to the quality of their programs. The opinions of the participants helped us to outgrow. Surveys are mandatory, and results from previous years can be found at
MECO 2022 Feedbacks from participants
MECO 2021 Feedbacks from participants
MECO 2020 Feedbacks from participants
MECO 2019 Feedbacks from participants
MECO 2018 Feedback from participants
MECO 2017 Feedback from participants
Some of the opinions:….
Please, provide any comments with regard to the academic program of MECO 2022 and CPSIoT 2022?
Mostly high-quality research and academic program, pleasant atmosphere.

Well done!

Everything was excellently organized. The greatest achievement is indexing papers in Scopus and XIEEE.

High level of academic and research program.

I attended MECO 2022. Everything was very well organized, and it was pleasure to be a participant of such event.
I liked everything.
This conference are the best opportunity for transfer of knowledge. Themes was very up-to-date.
The best from past years.
Please, provide any comments with regard to the organizational aspects of MECO 2022 and CPSIoT 2022?.
Perfect.

I would prefer to have more 'sterile' environment for the speakers. I had the feeling, that the organizers can disturb the speaker at any time, not always because of technical issues. Also entering or leaving the auditorium could be more discreet. Those are minor comments to consider for future improvement. In general – good job!

Good organization. The in-venue – online combination for the presentations can create infrastructure problems, unfortunately.

Keep ahead the great work.

Everything was very well organized, and organizers were extremely friendly and provided great hospitality to all participants.

Organization and performance of the conference was excellent at all points.

I like that the organizing committee is friendly and is willing to help with our questions.

The organization of the conference was very good, and I want to congratulate the organizing team for that. I have only one remark, regarding the presentations. In my opinion, in-person presentation are much better than the online ones, especially the keynotes. This also eliminates much of the hassle of obtaining an optimum environment for hybrid presentations.
What was your main positive experience with regard to your participation at the MECO 2022 or CPSIoT 2022 conference?
High quality of organization with very relaxed atmosphere.
The great venue, being able to meet many experts from several fields.
Relaxed and friendly atmosphere. Good setting for exchanging ideas.
Can be held hybrid, physically and online.
Networking, sharing new ideas, making plans for further joint research projects.
Excellent online presence was possible.

Nice and friendly hospitality provided by the organizers, as well as excellent networking opportunities.

Discussions after talk and diversity of ideas.

Conference was very well organized and allowed the participants to find their own track among the presentations. This indicates that the range of topics and presenters was broad enough to enable participants to focus their attention to the most interesting topics for their research. This opened space for better discussions and possibly made the overall impact of the event more significant for some future research activities.
What was your main negative experience with regard to your participation?
None.

No available rooms in the main hotel.

There where no negative experience.

Not be able to attend and present live.
No negative impressions.
Not being able to network and easily switch between paper – time overruns by organizers and session chairs.
Please, provide us with any comments/suggestions, which can be useful for preparing next year conference.
It should be online and Offline.

More days for conference.

A more precise list of live/ online exhibitors.

More social events for all participants, more conference days for better distribution of presentations over more days.

It would be great that the keynotes are in-venue, if possible. Congratulations for this year's event!

MECO 2023 should be enriched with new sections. One should me "Smart Systems in Maritime".

Conference Sessions should be well targeted to specific topics and not kind of dispersed.
Keep up with what you do.
Invite more industrial representatives.
I think the hybrid experience can be improved if there is more attention to how physical participants can interact with virtual ones.