Indexing:
MECO and CPSIoT belong to the internationally most esteemed and most reputable events (conferences) in the fields of:
Computer Science,
Embedded Systems,
Cyber Physical Systems,
Internet of Things,
Artificial Intelligence,
Computer Graphics and Computer-Aided Design
Computer Vision and Pattern Recognition
Human-Computer Interaction, and
Related Fields
They last for decade and are highly cited and indexed in almost all relevant databases in the area of ​​interest, inter alia:
IEEE Xplore (more…)
SCOPUS
Web of Science (WoS)
Microsoft Acadmic
Google Scholar
Research Gate
SJRScimago Journal & Country Rank,
and other relevant database
Growth:
MECO is a growing conference in both quantity and quality. We started with 73 papers and last year we had 192.
Famous guests:
We are very proud of the fact we have hosted 3 Nobel Laureates in the last decade.
Prof. Dan Shechtman, keynote at MECO 2016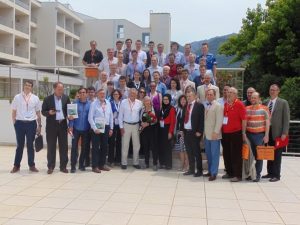 Prof. Tim Hunt, Nobel, Keynote at MECO 2018
Prof. Jerome Isaac Friedman, keynote at MECO'2019
More about our famous guests, their interviews for MECO, about our keynote speaakers as well as about other interesting stories that show the spirit of our conferences you can find at MECOnet Press-Media Corner
Feedbacks:
Transparency is one of our pillars. MECO and CPSIoT committees and organizers are very devoted to the quality of their programs. The opinions of the participants helped us to outgrow. Surveys are mandatory, and results from previous years can be found at
MECO 2021 Feedbacks from participants
MECO 2020 Feedbacks from participants
MECO 2019 Feedbacks from participants
MECO 2018 Feedback from participants
MECO 2017 Feedback from participants
Some of the opinions:….
Please, provide any comments with regard to the academic program of MECO 2021 and CPSIoT 2021?
Great
For reviewer, it's better to give an extra certificate as appreciation for how many manuscripts they reviewed.
Everything was OK.
I liked everything
Congratulation. Excellent program for both activities.
This conference are the best opportunity for transfer of knowledge. Themes was very up-to-date.
Well organized and interesting conference.
Please, provide any comments with regard to the organizational aspects of MECO 2021 and CPSIoT 2021?
Everything was very nice.
Despite the corona , organization was on high level without delays and technical difficulties.
Well organized.
Good.
All good.
The organization of MECO and CPSIoT 2020 was on prestigious level.
What was your main positive experience with regard to your participation at the MECO 2021 or CPSIoT 2021 conference?
All.
Reviewing paper.
Certificate.
Virtual event organization was excellent.
Presentation of my PhD paper in international conference.
Learning new things and making friends.
The presentations.
The overall organization as well as the high quality presented from most of the researchers!
Getting published and the peer review of my work.
What was your main negative experience with regard to your participation?
None.
Not getting any appreciation for reviewing manuscript articles.
I waited a long time for my turn after my appointment.
There is not any negative experience.
Not be able to attend and present live.
None.
Not being able to network and easily switch between paper – time overruns by organizers and session chairs.
Please, provide us with any comments/suggestions, which can be useful for preparing next year conference.
To continue as such.
Earlier advertising about the event.
A more precise list of live/ online exhibitors.
Conference Sessions should be well targeted to specific topics and not kind of dispersed.
To continue at the same way, and may be for some presenter, which have not possibilities to participate, to do the presentation online.
Provide conference recordings to participants. Also due to hybrid conf arrangements, maybe there
should exist a lobby room and per sector pre/post meetings sessions rooms for the participants to
exchange views, etc pre/after the presentations during the conference.
It would be great if next conference will be in offline mode.