The 2nd Summer School on Cyber Physical + Systems and Internet of Things, this year is in partnership with SMART4ALL project.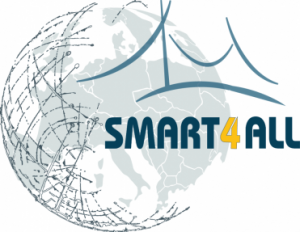 Each partner of SMART4ALL project can nominate 1-2 perspective young person of diploma, MSc or PhD level to participate to this School. The registration for this is according SMART4ALL partnership agreement. Those candidates are obligated to submit their application on a way as each SS-SPCIoT-2021 Participant. The number of places is limited.
Self-sustained customized cyberphysical system experiments for capacity building among European stakeholders (SMART4ALL), is a four-year flagship EU project under the call DT-ICT-01-2019: Smart Anything Everywhere for connecting Digital Innovation Hubs across Europe.
The SMART4ALL consortium consists of 25 European partners with interdisciplinary skills and know-how from universities, research institutes, investors, networking organizations, SMEs, Innovation Hubs and NGOs.
The project will build capacity (via Open Calls) amongst European stakeholders through the development of self-sustained, cross-border experiments that transfer knowledge and technology between academia and industry. It targets CLEC (Customized low energy computing) CPS/IoT and combines a set of unique characteristics that join together different cultures, policies, geographical areas and application domains under a common vision.
General topics arrears of SMART4ALL Special Session within MECO2021 are:
Digitized transportation,
Digitized agriculture,
Digitized environment
Digitized health with emphasis to COVID-19 pandemic
Digitized anything everywhere.
LIST of the ACCEPTED participants:
Malina Adach, Sweden, Mälardalen University
Piet De Vaere, Switzerland, ETH Zürich – network security
Elia Leoni, Italy, University of Bologna – Fondazione Bruno Kessler
Kevin Hutto, United States Georgia Institute of Technology
Saleha Javed, Sweden, Lulea Technical University
Burak Karaduman, Belgium, University of Antwerp
Jovan Djurkovic, Montenegro, University of Montenegro and MECOnet